IBC Tote Bin Scale allows operators to accurately gauge polymer usage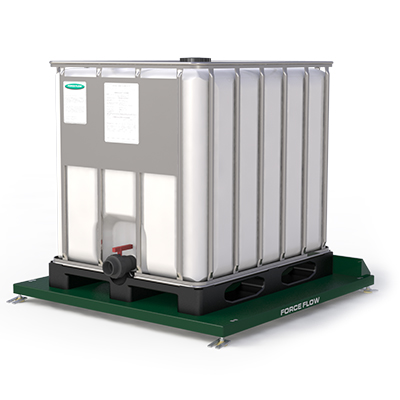 Increasingly strict federal and state reporting requremnets have created a need for water and wasewater plant operators to easily and accurately track chemical feed rates and usages. The IBC Tote Bin Scale does just that, while providing the assurance that the chemical supply won't unexpectedly run out. Accurately measuring chemical application can also be a big cost saver in the long run.
"Polymer especially is expensive," says Christina Rumbel, marketing coordinator for Force Flow/Halogen. "When adding for dewatering, volumes reach a point where there is little to no more benefit of increasing feed rate further. By cross checking the amount fed to the solids level achieved, polymer feed can be fine-tuned to maximize effect with minimum expense."
The IBC Tote Bin Scale's heavy-duty steel platform is protected with 80-mil-thick Tuf Coat Environmental Armor. Tuf-Coat is highly resistant to chemicals, abrasion impact and ultraviolet light degradation, making the IBC Tote Bin Scale ideal for harsh environments. Options include 316 stainless steel and MaxSense high-accuracy models.
The Tote Bin Scale creates a highly reliable, non-contacting chemical monitoring system that avoids problems other sensor technologies can face caused by irregular tank shape, corrosive chemical fumes, fluctuating temperatures and changes in specific gravity. According to Rumbel, users of the product in treatment plant settings have taken notice of that reliability.
"Those using it have told us that the IBC Tote Bin Scale is very durable due to the non-contacting, noninvasive nature into the chemical environment of a weigh scale, as no part of the system is actually inside the vessel," she says. "No technology is more accurate than a scale using electronic load cells."
Using the scale is easy for plant operators. Simply place a chemical tote on the platform and monitoring begins. There is nothing to install inside the tote, making the unit virtually plug-and-play.
"Unlike other sensor technologies, a scale is perfectly suited for monitoring portable vessels since there is no installation on or into the vessel of any kind required," says Rumbel. "Our experience with using our scales to monitor other portable tanks such as 55-gallon drums and small carboys made it a straightforward jump to take the same technology and use it for a larger vessel."
Systems can be remotely monitored from SCADA or PLC, and are available with the SOLO G2 dual channel digital weight indicator or with the advanced Wizard 4000 Chemical Inventory Monitoring System.