MERLIN® Chemical Dilution Systems
New Chem Feed Technology!
Merlin General Description
MB2 TECHNOLOGY: MASS BASED + MICRO BATCH
Like buying orange juice and detergents, water treatment chemicals are almost always less expensive to purchase in higher concentrations. Unfortunately, feeding high strength chemicals into process water can create problems for the water treatment operator. These problems may stem from things like extremely low feed rates, chemical off-gassing, ambient temperature conditions, very hard process water and safety or regulatory concerns in handling high strength chemicals.
By combining a microprocessor based controller with an instrument grade load cell, the MERLIN® Chemical Dilution System automatically creates small weight-based batches on demand to achieve dilution ratios of up to 1000:1. With this "Mass Based + Micro Batch" technology, users now have a safe, easy and accurate way of diluting high strength water treatment chemicals onsite.
For a quote please complete the Application Datasheet and email to This email address is being protected from spambots. You need JavaScript enabled to view it.
Merlin Technical Specs
VESSEL TYPE :

Feed/Day Tank, Batch/Dilution Tank

CAPACITY :
Feed Tank: 30 gallon, 55 gallon, Custom Specification
Batch Tank: 5 gallon, 17 gallon, 55 gallon, 500 gallon, Custom Specification
TYPICAL APPLICATIONS :

Fluoride * Sodium Hypochlorite * Sodium Permanganate * Sodium Hydroxide * Sulfuric Acid * Other chemicals and liquids upon customer request
The Merlin is compatible with the following indicators: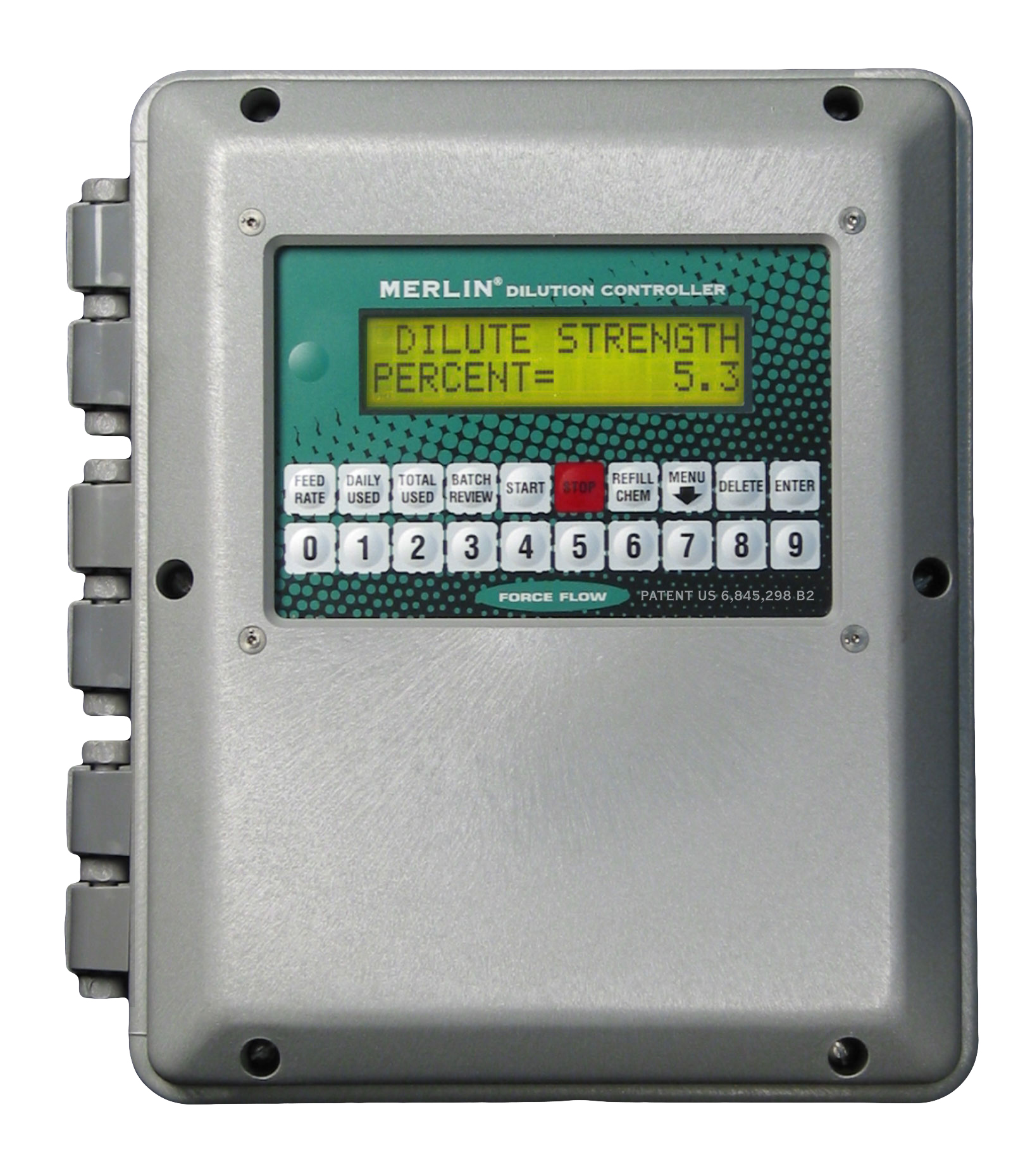 Merlin Indicator
Merlin Typical Written Specs
Merlin Engineered Drawings
Merlin Technical Support
For Technical Support, call our FACTORY SERVICE HELP DESK at 1-800-893-6723 (within U.S.) or 925-686-6700.
From the initial writing of a specification through the installation and operation of the equipment, 100% satisfaction is our goal. At FORCE FLOW, we know that a superior customer service and support team is crucial to the success of our customers and the success of our company. Following are some of the services that we offer:
Performance Guarantee
With the purchase of every Force Flow product comes our exclusive Performance Guarantee. If you are unhappy about the performance of one of our products in your chlorination or chemical feed application, you may contact your local distributor and request they begin the restock,refund or exchange process. Under the Performance Guarantee, for 30 days after receiving the product, you may return or exchange it for full purchase price refund or credit towards another Force Flow product. To qualify, all Performance Guarantee refunds or exchanges must be pre-approved by the factory service manager before returning the equipment to the factory.
Warranty WARRANTY STATEMENT.pdf
FORCE FLOW warrants every single one of our products for a period of five years. If a failure occurs within the said period, the warranty extends from the date of FORCE FLOW's shipment, and liability is limited to repayment of the purchase price, repair or replacement of the equipment. All warranty work must be returned to the factory or a center designated by FORCE FLOW.
Service
Our policy is to get all repairs, warranty work and retrofits completed and shipped back to the customer within 48 hours of receiving them at our factory. Trained technicians and a large parts inventory makes this happen. We understand that there is nothing more frustrating than sending something back to the manufacturer and wondering when you will see it again. Two day turnaround—that is our policy! For prompt service, call our FACTORY SERVICE HOTLINE at 1-800-893-6723 (within U.S.) or 925-686-6700.
Technical and Application Support
FORCE FLOW factory engineers have strong technical backgrounds with many years of process weighing experience in both chlorine and chemical feed applications. If you require technical information, application support or help with a custom project, please contact an application engineer at our HELP HOTLINE at 1-800-893-6723.